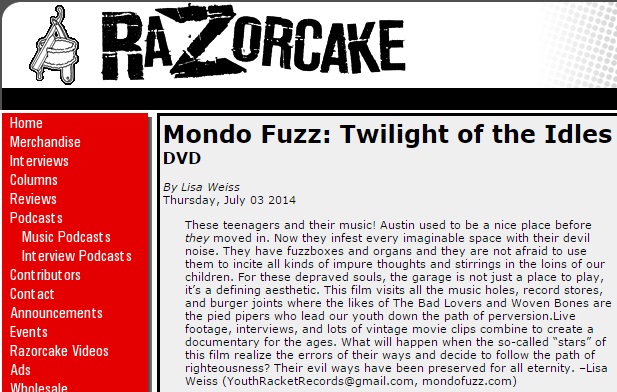 "An impeccable debut."
-IMPOSE Magazine NYC
Read full profile here.
"Perfect to zone out to with no lights on, cheap beer and a shitty TV."
-HEXBEAT, read article plus director interview
"KILLER soundtrack and a very interesting portrait of youth culture."
-Mark Reitz, Director of PSYCH NIGHT SOUTH AFRICA
"A totally solid Austin-centric music doc… loaded with rad performances, and there isn't a single one that doesn't make me want to immediately run out and find a show."
-SideOneTrackOne, read profile here.
"A sick document of the Austin, Texas garage freakbeat rock'n'roll scene… A real wild and smart treat, one my favorite music films I've ever seen."
-ROCHESTER TEEN SET OUTSIDER, full review here.
"Best experimental film 2013"
-MINNEAPOLIS UNDERGROUND FILM FESTIVAL
'Best New Music Doc.'
-AUDIO GASOLINE
"A cult in the making… takes us right into the heart of the underground music scene in Austin, Texas. Music." -Subbacultcha Magazine, Amsterdam
"Very cool, a perfect heap of TRASH!"
-You Got Good Taste
"Refreshingly different. …a playful group portrait of Austin's underground garage music scene. Live sets and interviews spliced with found footage to form one very loud pastiche. PICK."
-East Bay Express (Oakland, CA)
Listen to an interview with Andy Ray Lemon on KOOP 91.7 Lights Camera Austin here.
"Badass"
-Ryan Darbonne, AUSTIN FILM FESTIVAL, CINEMA 41
"Underground music by modern cavemen!"
-MUSICA INCLASIFICABLE MEXICO, full review here (Spanish).
http://musicainclasificable.blogspot.mx/2013/10/resena-documental-mondo-fuzz-twilight.html
"Awesome."
-Tracey Shultz, 'What's New' KOOP 91.7 Austin
listen to interview
'Not to be missed.'
-ASIAN-AMERICAN PRESS
"Sweaty footage of underground heroes like John Wesley Coleman, Strange Boys, Shapes Have Fangs, Dikes of Holland, and the Bad Lovers."
-THE AUSTIN CHRONICLE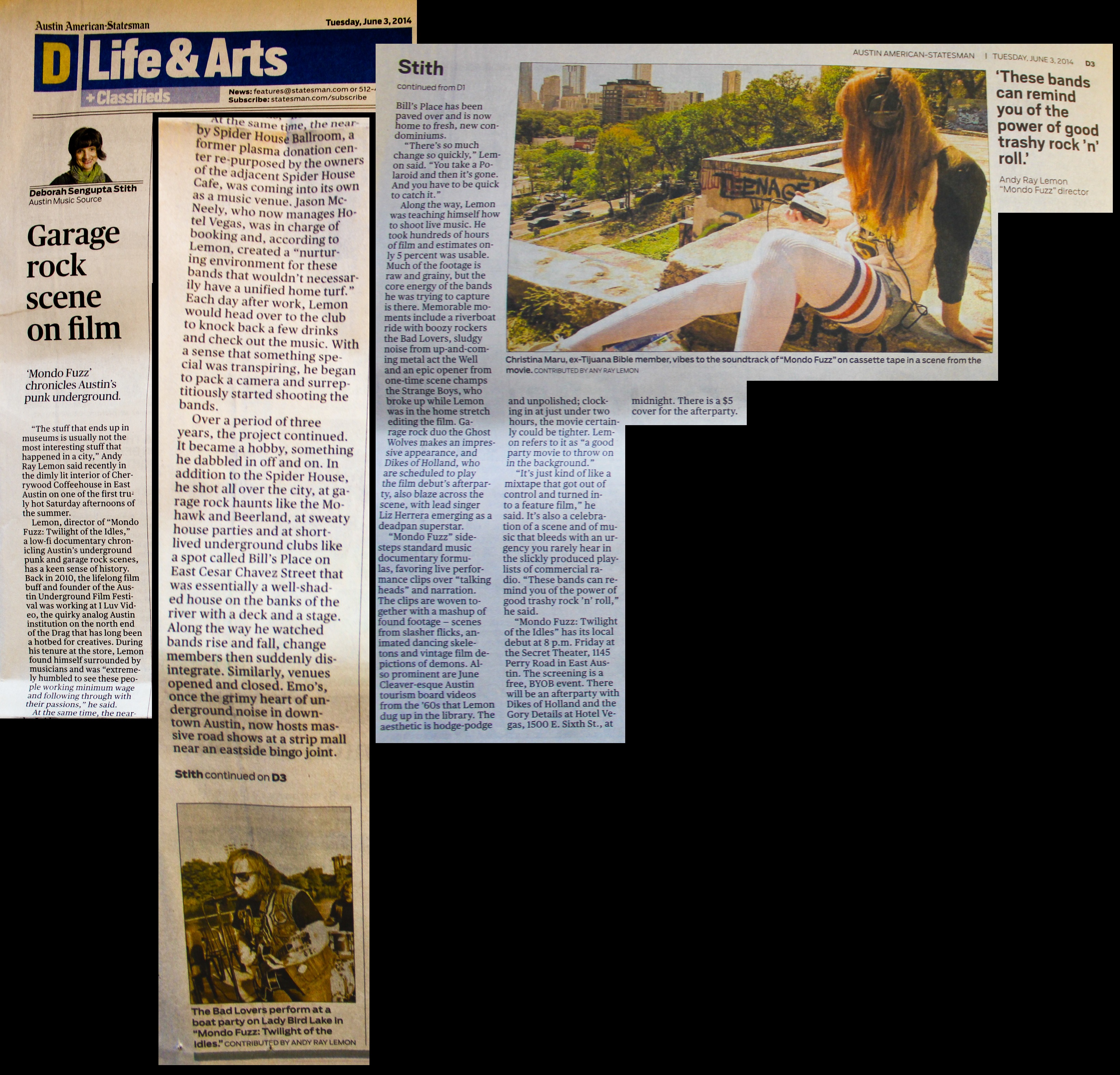 Segment on 90.0 FM Valenciana El Garito de Wray, Spain
Listen here (Mondo Fuzz spot begins at 34:45). http://www.ivoox.com/edicion-124-el-garito-wray-22-01-2014-mc5-audios-mp3_rf_2830078_1.html
"Recommended viewing."
-Topper, GARAGE PUNK HIDEOUT
Mondo Fuzz has also been featured on The Clear Spot radio show, the Last Round-Up radio, Sun in Scorpio, Ovrld, Acid Kat Zine, Radio K Minneapolis, & WFMU New Jersey.